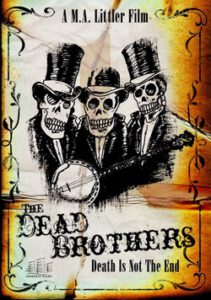 February 25th 2006:
The world premiere of THE DEAD BROTHERS – Death Is Not The End, a documentary about the world's most beloved funeral band "The Dead Brothers" takes place at CINEMATTE (www.cinematte.ch) in Bern Switzerland. A film by M.A. Littler / SLOWBOATFILMS
"Death Is Not The End"
…is the intimate portrait of three men that couldn't be any more different.
Alain Croubalian, son of an Armenian Immigrant and a Swiss nurse, Pierre Ohmer, son of an Indian Historian and a Genevan mother, as well as Delaney Davidson, a New Zealand native Troubadour and world traveller are the core of one of the most idiosyncratic and unique bands of our time – THE DEAD BROTHERS.
This film however is not merely a music documentary; it's rather an exploration of their individual personalities and how their unique biographies have shaped their music.
Alain Croubalian explains what impact the Armenian genocide and the resulting Diaspora had on his family and ultimately on his personal development. He also describes how his life as an immigrant in N. American resulted in his die hard nonconformist stance.
Pierre Omer offers a melancholic and at times ironic insight into his creative process and his personal battle between irony and tragedy.
Delaney Davidson openly discusses his own mortality and which role humour plays in dealing with it.
The bands' music reflects their Babylonian biographies;
Blues meets Chanson, Gypsy Swing meets Vaudeville and Brecht & Weil go for a drink with Hank Williams somewhere in St. Pauli, New York or Marseille.
The bands' provocative yet cheerful performances have meanwhile achieved world wide cult status.
The film shows the band not only on stage at large clubs but also joins them at spontaneous street concerts and jam sessions.
To wrap it all up, we'd like to say we believe to have made a paradoxal film, a balancing act between melancholy and exuberance, as well as existential questions and black slapstick humour.
"The Dead Brothers welcome you on board the ghost train…"
The film's trailer can be viewed and downloaded right here and is available for club-, cinema- and festival bookings.
Contact: SLOWBOAT FILMS www.slowboatfilms.com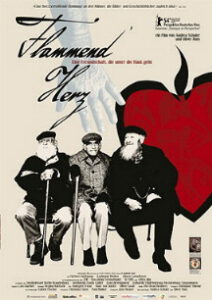 FLAMMEND' HERZ
D/CH 2004
95 Minuten deutsch/german
Soundtrack by THE DEAD BROTHERS
Herbert, the prosperous entrepreneur living amongst post-card Swiss mountains. Karlmann, son of one of Northern Germany's richest families. And Albert, the olde-style sailor. Three lifelong friends who devoted their lives to a common passion when this was seriously taboo: tattooing.
At first, the three give the impression of friendly, polite and well-to-do gentlemen around 90. And that´s exactly what they are. But once they take off their shirts, their blue tattooed skin tells dramatic stories of a life firmly on the other side of convention.
Emotional stories of love and love lost, of friendship and betrayal, of standing up for what you believe in against all odds. BLUE SKIN is the loveable, sometimes tragic, sometimes very funny account of how the three once met, why they find it hard to get on nowadays and whether there's any hope of making up. And through their biographies, we catch a glimpse of more than one century of one the world's most beautiful addictions: tattooing.
More Infos: www.flammendherz-derfilm.de
+
MEMORIA PULP www.memoria-pulp.com
Grave Digger. (Totengräber)
CATEGORY: Short Film
YEAR: 2006
DURATION: 14min
LANGUAGE: d
Grave Digger: Alain Croubalian
Bride: Anja Tobler
Priest: Jürgen Brügger
Written & Directed by: Stephan Heiniger
Camera: Markus Heiniger
Music: Resli Burri & Alain Croubalian
Editing: Stephan Heiniger & Miguel Macaya